WeLoc Gripper PA 150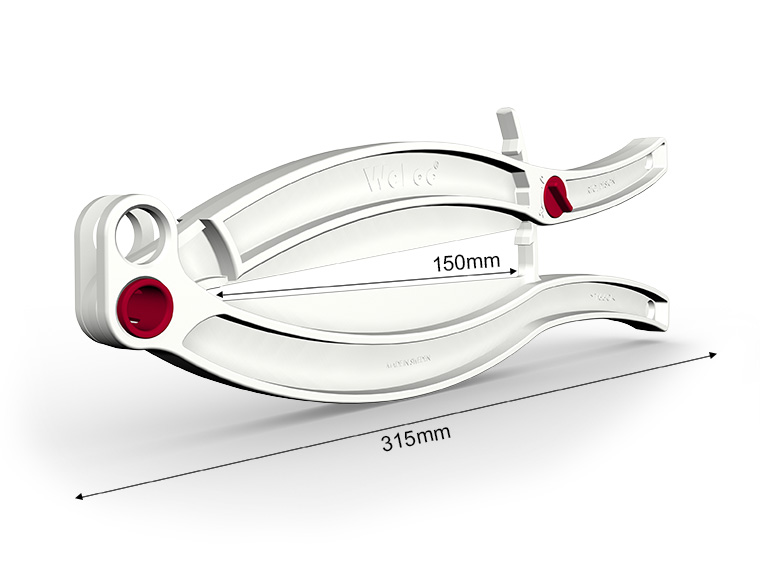 The WeLoc Gripper PA is the most powerful WeLoc closure. It is manufactured from DuPont's Nylon, reinforced with glass fibre which further enhances its strength and durability.
The Gripper is designed to cope with the toughest environments and is therefore excellent for many industrial applications, where a stronger seal is often required.
Instruction
Specification
Model: WeLoc Gripper PA 150 white
Article no.: 1415001
Material: Polyamide 6.6 from DuPont Reinforced with glass fibre
Color: White
Sealing length: 150 mm / 6 inch.
Total length: 315 mm / 12 1/2 inch.
Weight: 130 g - 4.55 oz
Technical Info
Temperature ranges
-20 to +140 ⁰C / -4 to +284 ⁰F
Sterilization methods
Autoclave, EtO, Gamma
Packaging
Pcs/carton: 70
Pcs/pallet: 2800
40 cartons x pcs/carton = Pcs/pallet
Weight/carton: 9.6 kg - 21.2 lbs
Weight/pallet: 409 kg - 902 lbs
Color Specification
All our standard range of colors are absolutely free from cadmium and lead. This is to meet the FDA regulations as well as other international requirements for products related to the food market.
Based upon these facts you are recommended to choose a WeLoc in one of our standard colors, and when printing we always recommend a white WeLoc with the customers accurate Pantone for the print.
WeLoc PA, WeLoc PA Scoop, WeLoc PA Spoon and WeLoc Gripper PA 100 are made of Nylon PA 6.6 which has to be moulded at a very high temperature and so the color pigment must have very special properties.
Please also be aware of that to test out a new Pantone color on the WeLoc closures we need minimum 10-12 extra working weeks for color matching and production.
Our standard colors are:
Quality & Origin
All WeLoc clips are produced under certified conditions by Makeni AB who are located in the same facility here in Sweden. Makeni are certified according to ISO 9001:2008, ISO/TS 16949:2009 & ISO 14001:2004.
Country of origin: Sweden
Custom Tariff nr: 39235090
Food contact
Our WeLoc products are made from Food Grade compounds and color additives which comply with the EU Regulations, EU 1935/2004 as well as the FDA Regulations. The only exception is the fiberglass reinforced WeLoc Gripper PA which is recommended only for secondary use on food packages.
REACH
We hereby confirm that we are informed of the REACH-legislation and understand our responsibility in REACH.
Our products do not contain chemicals included in the list of substances of very high concern (SVHC) restricted in REACH, based on information from our suppliers.
Routines are introduced to follow the changes of legislation and restrictions in REACH.



Care & Use Advice for your WeLoc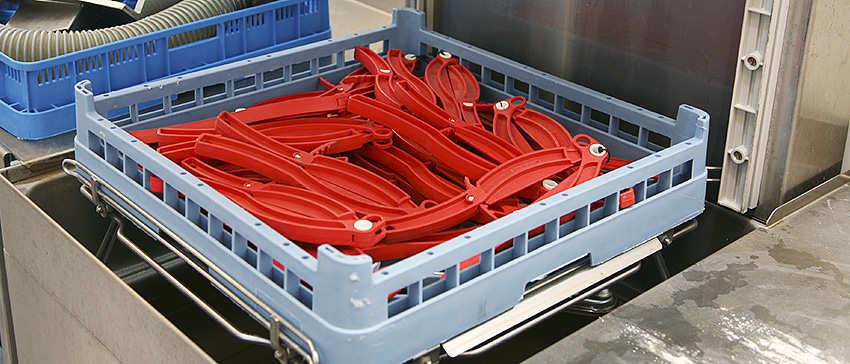 All WeLoc clips can easily be cleaned and reconditioned. If WeLoc PA closures have got bent after use on thick packages they will return to the original shape after processed in a dishwasher or boiling water for a while. PA (Nylon) is a technical plastic material with a unique "memory".