WeLoc Scoop PA 150-55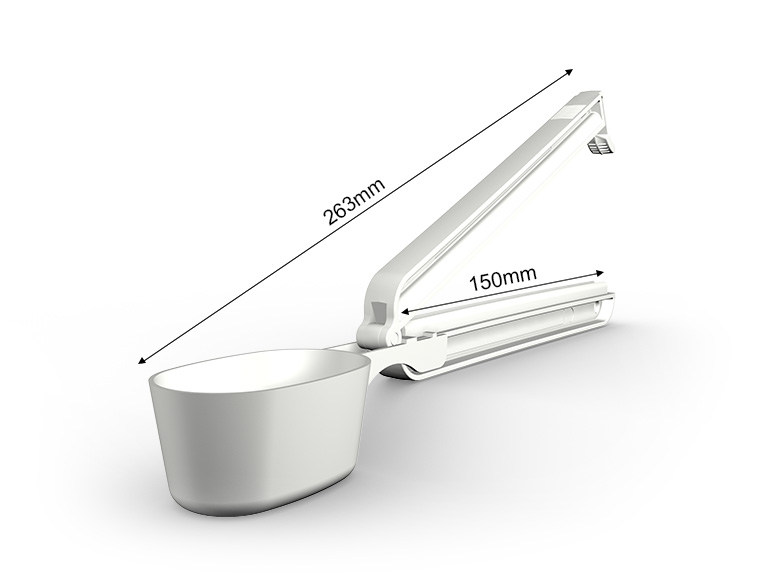 Specification
Model: WeLoc Scoop PA 150-55 white/white
Article no.: 421500550101
Material: Polyamide
Color: White
Color spoon/scoop: White
Sealing length: 150 mm / 6 inch.
Total length: 263 mm / 10 1/2 inch.
Weight: 40 g - 1.40 oz
Volume: 55 ml - 1.86 fl.oz.
---

Product specification
Technical Info
Temperature ranges
-20 to +140 ⁰C / -4 to +284 ⁰F
Sterilization methods
Autoclave, EtO, Gamma
Packaging
Pcs/carton: 140
Pcs/pallet: 5600
40 cartons x pcs/carton = Pcs/pallet
Weight/carton: 6.1 kg - 13.5 lbs
Weight/pallet: 269 kg - 593 lbs
Printing WeLoc Scoop PA 150-55

Front: 105 x 10 mm - 4 1/8 x 25/64 inch.

Back: 105 x 10 mm - 4 1/8 x 25/64 inch.
When printing we always recommend a white WeLoc clip as first choice since a slight difference of shade may occur when printing onto colored backgrounds. We will send a scaled electronic proof for your approval before starting the production.
---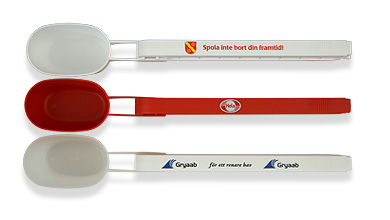 Printing facts
Colors:
Can be printed in 1-4 printing colors + CMYK.
Required artwork:
A vector based EPS-file made in Adobe Illustrator. (Please contact us if you need help)
Delivery time:
Normally 3-4 working weeks after receiving the order and artwork. For smaller quantity (up to 10.000 pcs)
Color Specification
All our standard range of colors are absolutely free from cadmium and lead. This is to meet the FDA regulations as well as other international requirements for products related to the food market.
Based upon these facts you are recommended to choose a WeLoc in one of our standard colors, and when printing we always recommend a white WeLoc with the customers accurate Pantone for the print.
WeLoc PA, WeLoc PA Scoop, WeLoc PA Spoon and WeLoc Gripper PA 100 are made of Nylon PA 6.6 which has to be moulded at a very high temperature and so the color pigment must have very special properties.
Please also be aware of that to test out a new Pantone color on the WeLoc closures we need minimum 10-12 extra working weeks for color matching and production.
Our standard colors are:
Quality & Origin
All WeLoc clips are produced under certified conditions by Weland Plastic AB who are located in the same facility here in Sweden. Weland Plastic are certified according to IATF 16949 & ISO 14001.
Country of origin: Sweden
Custom Tariff nr: 39235090
Food contact
Our WeLoc products are made from Food Grade compounds and color additives which comply with the EU Regulations, EU 1935/2004 as well as the FDA Regulations. The only exception is the fiberglass reinforced WeLoc Gripper PA which is recommended only for secondary use on food packages.
REACH
We hereby confirm that we are informed of the REACH-legislation and understand our responsibility in REACH.
Our products do not contain chemicals included in the list of substances of very high concern (SVHC) restricted in REACH, based on information from our suppliers.
Routines are introduced to follow the changes of legislation and restrictions in REACH.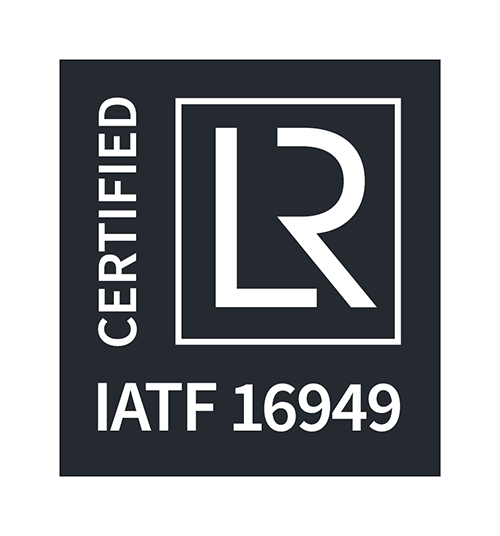 Care & Use Advice for your WeLoc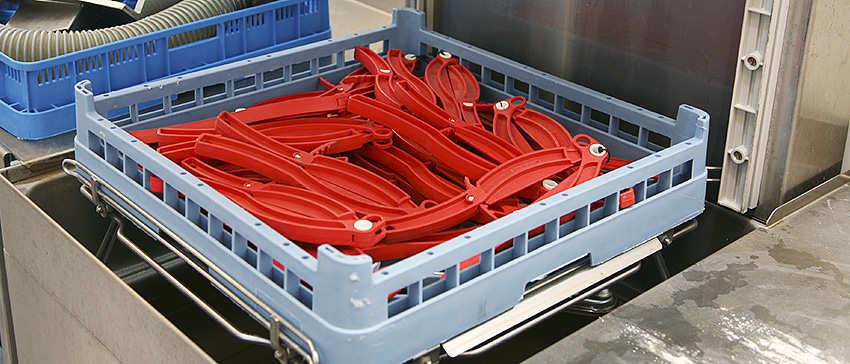 All WeLoc clips can easily be cleaned and reconditioned. If WeLoc PA closures have got bent after use on thick packages they will return to the original shape after processed in a dishwasher or boiling water for a while. PA (Nylon) is a technical plastic material with a unique "memory".
The results are filtered on:
bc00001851_151127.jpg

WeLoc PA 150 and WeLoc Scoop 150-55

27/11/2015

---

Included in gallery:

WeLoc Scoop PA 150-55
For more pictures, visit our photo gallery